In this post we discuss about Latest Games Website Templates Free & Premium Download. Here you will find the latest Games website templates free and premium to download which are handpicked keeping in mind the best and latest design trends of all time. With these website templates, any sports game and online game or game-related website can be easily created. All these website templates have been created following the premium and excellent design level. All website templates are built following the latest technology standard guidelines. Let's have a a look all awesome themes –
MYKD
eSports and Gaming NFT Template
This sports and gaming NFT template is the newest gaming NFT template ever created. Website templates for online games have been created with very beautiful and trending elements. For some period of time, its price has been kept very low.
Main Features –
The features of this website template include more than 13 valid clean code-composed html5 pages which are built using the latest framework of Bootstrap 5x and are responsive on all devices. Demos of two different homepage types and all 13+ inner pages are included. This website template's support and detailed documentation are very professional and helpful.
Good Games
eSports & Magazine Gaming Template
Good Games is a sports and magazine gaming template targeted at sports, magazines, news, e-commerce, community, and many more. In this website template, you will get to see news, blog, and forum pages together. This is a fully-featured online game template.
Main Features –
Its features include e-commerce pages, news, blog, forum, community pages, and gallery pages. It is built with developer-oriented es6 modules, webpack and scss files which are equipped with a bootstrap framework. It also has a working Ajax contact form and Mailchimp integration.
Godlike
The Game Template
Godlike The Game Template is a beautiful mind-blowing HTML website template built with Bootstrap framework to create a website for online games or game studios. Many types of shortcodes and variations of many types of layouts have been prepared in this.
Main Features –
This game template features over 65 HTML files created using unlimited layout combinations. It includes mobile navigation, background video, and audio. Built with premium plugins like Revolution Slider which is a 100% retina-ready and responsive template. It has a working Instagram feed, a Twitter feed, an Ajax contact form, and integration with Mail chimp.
Geco
eSports Gaming HTML5 Template
Gecko Sports Game HTML template is a very classy level website template made using beautiful dark colors to attract gamers. In which bright colors have been used. This is the perfect website template for a gaming portal.
Main Features –
The features of this template include Hundred Percent Responsiveness, Nice and Clean Design, Clean and Commented Code and Valid HTML Files. It is comprised of four different home pages and over 13 inner pages. Fonts Awesome Icons have been used in this. A working contact form is provided in this website template which is effective for communication. Its professional and detailed documentation will impress you.
Youplay
Game Template Based on Bootstrap
You play game template Bootstrap-based HTML game store and game blog and clean website template for a game community built with four different types of homepage demos. it is a good template for gamers.
Main Features –
Included in the features of this website template are four different types of homepage demos, three different store styles, a coming soon page, and many useful inner pages. Companion with premium plugins like Slider Revolution, and Isotope jQuery Filters, it comes with a smooth scroll by default. It's a cross-browser-compatible website template that is fully responsive, a parallax effect is used in this template. The light and dark color modes are also used.
Galactic
eSports and Gaming HTML Template
Galactic is an eSports and gaming HTML template with two homepages designed in a clean and modern way. This is a website template specially designed for the needs of gaming teams. It can also be used for the game's store.
Main Features –
The two homepages included in the features of this website template are made using modern design elements which are rendered by working edge x contact phone. It is built using the latest version of Bootstrap 5 which is easily editable. This is a 100% device-responsive template with free technical support and lifetime updates.
Bonx
Gatsby Gaming Template
Bonx Gatsby Gaming Template is a developer-friendly gaming website template built using react.js which is built with pleasing-to-the-eye design elements. With this website template, you can easily promote your gaming team events, gaming blog, gaming community, and tournament-related games.
Main Features –
The main features of this website template include more than 20 inner pages designed in the fully responsive template which is beautifully designed by react.js and gates by js. You will find excellent support and well-written documented code in this website template. Along with this, you will continue to get its free updates for a lifetime.
Gamxo
Games News Gaming HTML5 Template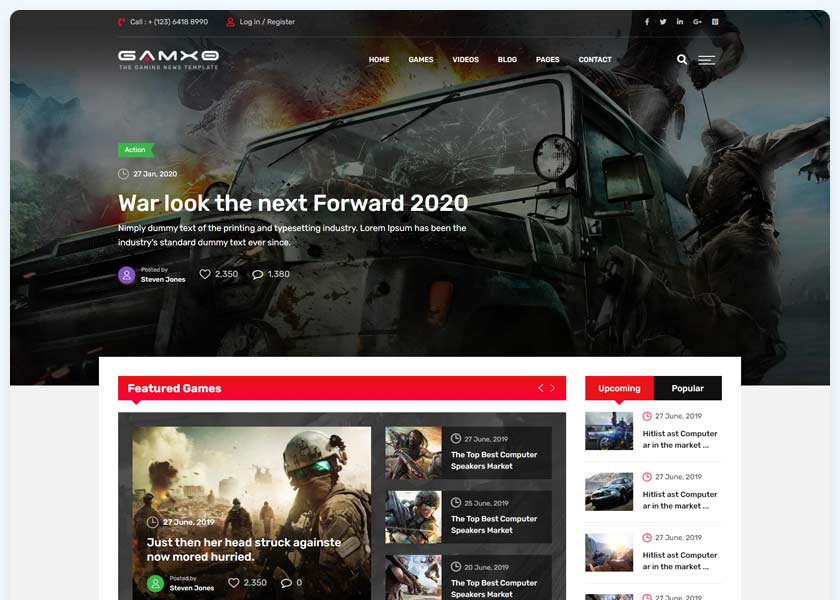 Gamxo is an html template for spreading games news related to gaming news, magazines, and entertainment. With this, you can easily create gaming blogs, and news as many layouts of pre-made home pages have been included in it.
Main Features –
It has to be excellent and mobile-friendly and included in its features. It is built from Sass which runs well on all modal browsers. Clean code has been taken care of in making this template which is easily customizable. It uses Google Maps, Ajax Contact Form, and Google Phone, where you get excellent customer support.
Strider
A Game Studio Template (HTML)
Strider is an HTML template built for game studios that is leading the way in attracting customers for its excellent and creative design. Many customers have liked it and given positive reviews about it.
Main Features –
The features of this website template include five different types of homepages such as static, slider, particle, video, and animated demos which are equipped with many features. It uses plug-ins like Isotope Script, Lightbox, Bootstrap Validator, and particle.js, which are enough to take any template to a premium level.
MonsterPlay
eSports and Gaming HTML Template
Monsterplay is an HTML template built for esports and gaming that comes with four different homepage demos built with Bootstrap 5 and using over 20 components. This is a template dedicatedly to supporting esports pages.
Main Features –
Features such as a working Twitter feed, Instagram feed, Excel contact form, Google map, Google fonts, and contact form are included in this template. Along with this, the Revolution Slider plugin has been included in it, which is the world's best plugin for creating beautiful sliders. This is a developer-ready HTML template designed keeping in mind the latest developer tools.
Ophela
Gaming Studio HTML Template
Ophela is an HTML template for a gaming studio which is displayed as a modern template composed of two home pages and 9 inner pages. If you are looking for a premium design template, then this one will be perfect for you as it presents a modern and clean layout along with a unique concept.
Main Features –
This website template uses Sass and html5 and is made of the Bootstrap framework. Owl Carousel Slider has been used to make it. Smooth transition effects are provided in this template and it is well-optimized on all browsers. It comes with free updates, its support is of the best level, which is available 24/7.
ARSNL
Video Game Landing Page
Now the template we are talking about is a landing page for a video game. If you want to design a landing page for your game, then this is going to be a great option for you.
Main Features –
This landing page has two different demos made from plugins like Lightbox, Bootstrap validator, Blazy load image script, and jQuery. It is a great option to promote your PC, Mobile Games, and Xbox games.
Halda
eSports and Gaming Template
Halda Esports Gaming Template is an online gaming template with clean and modern 100% responsive support sourced from more than 11 valid html5, using beautiful colors and elements.
Main Features –
The features of this template include beautiful and clean design, well-commented code, more than 3 homepages, and more than 12 collections of pages, all supported by valid html5 and css3 code. It provides detailed documentation along with 24/7 support.
Halda
eSports and Gaming WordPress Theme
Halda is a sports gaming WordPress theme that can be easily installed with a single click. WordPress themes include a variety of features through which you can easily create your website.
Main Features –
It comes with a host of features including a one-click demo install, pages built with the Elementor page builder, and a WooCommerce-ready site. It is fully customizable and supports right-to-left language. Contact Form 7 and Mail Chimp have been integrated so that it can easily reach its customers. Many styles have been included in its header and footer and an off-canvas menu has also been made in it.
Alchemists
Sports, eSports & Gaming Club and News HTML Template
Alchemist Sports is a Bootstrap-based Sass and NPM website template related to sports, e-sports, gaming clubs, and game news. More than 50 HTML files have been given in this website template, which has been created considering different types of sports.
Main Features –
This is a fully customizable template that has been built keeping in mind all kinds of sports such as American football, hockey, baseball, soccer, basketball, and many more. It is responsive and equipped with css3 animation. Versions of many methods have been included in this and Raw PSD files have also been attached to it. Which is fully customizable as well as additional support for creating a new page.
Xmiro
Gaming Studio HTML Template
Xmiro Gaming Studio is a modern-day website template that follows the latest trends and lets you easily design a professional-looking website for yourself or your clients that is completely dedicated to games, sports, and entertainment. And will be dedicated to online games.
Main Features –
It is made up of well-written code which is made using html5, css3 and validated by w3c standards. Also made up of search engine optimization and well-commented code. It has a fully customizable slider and smooth transition effects, yet it's fast and lightweight.
Gilbard
Gaming Website Template
If you are looking for a completely eye-catching gaming website template, then this template is going to prove to be completely reliable and live up to your expectations as the elements of this website template are completely matched with the gaming website.
Main Features –
In its features, we want to tell you that it has more than 6 homepage designs that are fully responsive. Different types of home page designs are included in a way that is essential for a game-based website template. Apart from this, sets of internal pages have also been given in it, which prove to be helpful for the entire website. This is a fully validated and easily customizable template.
Faf
Gaming HTML Template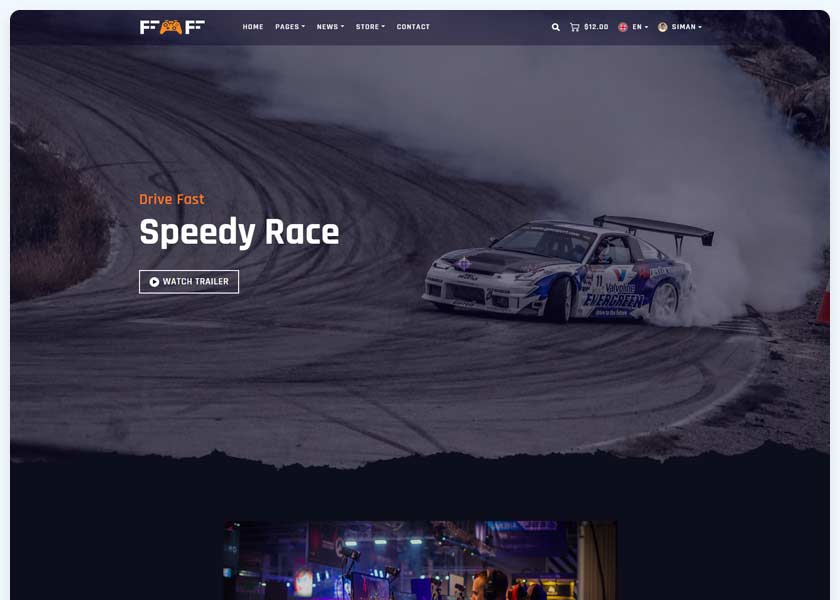 FAF Gaming Website HTML Template Built with entertainment and esports in mind, it can be a suitable website template for professional gamers. It is made to take your gaming business to new heights.
Main Features –
This website template is fully mobile responsive built with valid code and well-compatible with all types of browsers. Google fonts and Fontawesome icons have been used in this. Its code is written keeping the developer's mind in mind and comes with a good amount of supporting documentation.
Cavalier
Games Studio HTML Template
Cavalier Game Studio is a website template for game websites, games competitions, and game platforms with all the files well optimized.
Main Features –
It is completely mobile and other device friendly and 100% responsive which is built by the Bootstrap framework. Fonts of Awesome Icons have been used in this. This is a fully retina-ready and supported website template with a working contact form.
Eoorox
Gaming and eSports HTML5 Template
Eoorox Gaming & Esports is a modern, powerful, clean, and high color contrast supported gaming website template written to target a wide range of gaming sectors. There are many types of homepage demos available in it.
Main Features –
This template features include 3 unique home pages built with the Bootstrap framework. All these pages have been properly validated. It comes with css3 animation effects and is well-integrated with well-commented code.
The Conclusion
The gaming sector is a major industrial sector that is developing rapidly, this sector cannot be ignored, so in view of the growth in the coming time, the necessary gaming website templates have been brought here. So that any customer can easily create a website for their games using these templates. This website follows every single standard and is of a high level of quality level. The latest games website template free and premium download provided here will help you in many ways.
Also if you are searching for web themes related to Online Betting then you can refer to our Online betting sites best templates and themes and also Casino Website Templates and themes free download
Disclaimer: Themeslay is an external affiliate for one or more products listed above. If you click a link and buy that product then we could receive a commission. The opinions on this page are our own and we don't receive any additional bonus for positive reviews.