Here we are giving you a collection of Best Anime and Manga Blogs Theme. Which offers endless customization options and best quality design as per your solution.
In this article, we will tell you in detail about the themes of the website and blog related to manga and anime. You can use these website blog themes in a better way in any of your projects. Manga is a comic book that is very popular in Japan and is published there weekly. Publishing manga is cheaper because it doesn't have to be printed in color, which saves time and money. Anime is a term used in Japan to refer to films based on animation. Anime is a term associated exclusively with animation from Japan.
You need not worry as our customer care representatives are ready to assist you 24/7 free of cost. All these Best Anime and Manga Blogs Theme come with 100% Customer Satisfaction Guarantee.
Animtora
Anime and Manga PSD Template
Animtora is The Next Generation Anime Community System Template That You Can Use For Anime Streaming and Manga Reading with a blogging and forums system. Also provides a lot of features to the user like notifications of new episodes and favorite lists etc.
ANIMAG
Anime and Manga Magazine WordPress Theme
ANIMAG is a new editorial web design creation for anime news WordPress themes its totally responsive design. This themes features of clean menus and navbar, minimalist homepage with infinite scroll, custom banner spaces, dark mode switcher, sidebar widgets for archives, posts and footer and many more.
Anime Blog
Manga Cartoon Blogger PSD Template
Anime Blog is a simple and easy to use template for manga cartoon blog. If you are looking for an ideal PSD template for the website of manga cartoon blog, Anime Blog is the right choice for you. It is perfect for the website of manga cartoon blog.
ANIMACE
Anime and Manga WordPress Theme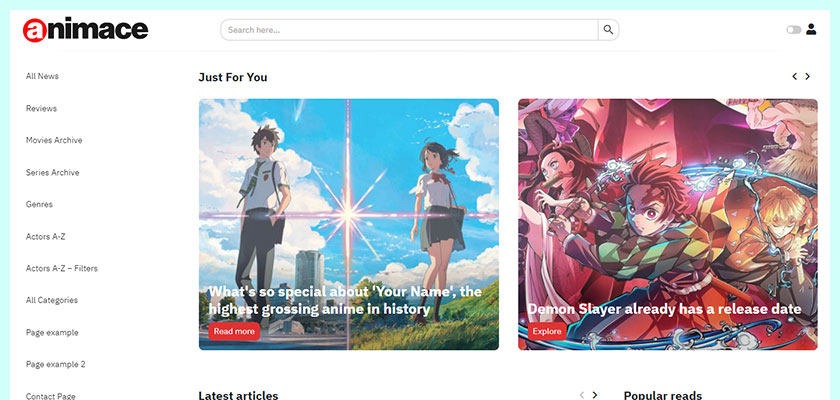 In Animace you get a complete and easy-to-use theme. Which includes custom fields to fill in information, scores for users and editors, color selectors, predesigned modules. Its a template made with Bootstrp and ACF designed to publish news, reviews and catalog anime series and movies.
ZETTAI
Anime News, Reviews and Database WordPress Theme
ZETTAI is a unique template of its kind. It designed to propose a renewal in terms of web design for anime sites. It is the natural evolution of ANIMAG. ZETTAI is designed to create your own anime news site and database, similar to the most popular anime news sites.
Anity
Anime HTML5 Website Template
The Anity anime HTML5 website template provides a modern, clean, and colorful design. Apart from these advantages, the anime HTML5 website template also has others to offer. They can be used to improve navigation on your website. With the integrated gallery, you can create a portfolio of anime cosplays and other related photos.
Animotra
Online Anime and Manga Website Template
Animtora is The Next Generation Anime Community System Template. It's features to the Live Anime Streaming and Manga Reading with a blobbing system. It's included 19 HTML page fully support RTL and tornado UI framework. Also providing a lot of features to the user like notification of new episodes and favorite list and showtime calendar.
Anime Fest
Moto CMS Landing Page Website Template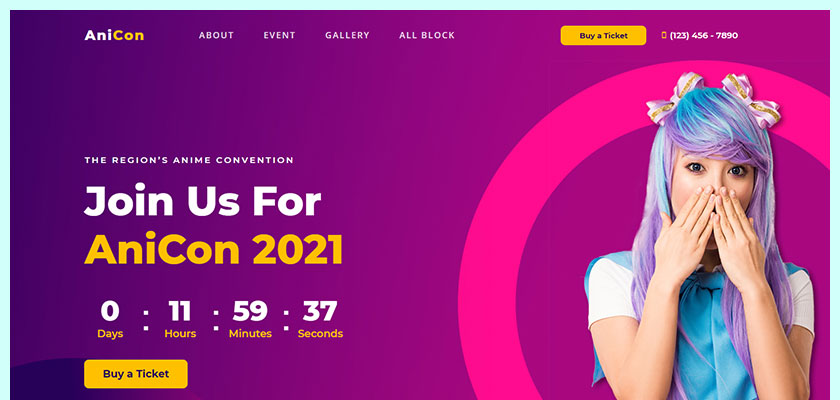 Meet this flexible and responsive anime fest website template that is perfect for any anime event. Convention, or fan meeting. With a fully customizable design, versatile modification options, Seo friendly. Its incomparable website builder, this template is an excellent basis for fast and hassle-free website creation. Try this bright anime-style design now.
Hironama
Anime Moto CMS 3 Template
Create website within 3 days and start getting your first order. Just MotoCMS and mouse in your hand. Hironama key features are 100% responsive, Parallax effect, improved slider carousel, audio & video widgets, social integration, iFram widget, Google map and SEO friendly. Its a pixel perfect designs in every template for every sphere.
MangaStorm
PSD Manga Template
MangaStorm is a PSD Template especially made for reading manga online page. It includes 19 PSD files fully layered and easily customizable. The template has been many pages like manga – list- ver1, ver2, blog-list, blog-post, search-advanced, search-result, signin page, signup page, user- account setting, bookmark, history, reader setting. Please have a look.
The Bebop
Anime and Comic HTML Convention Template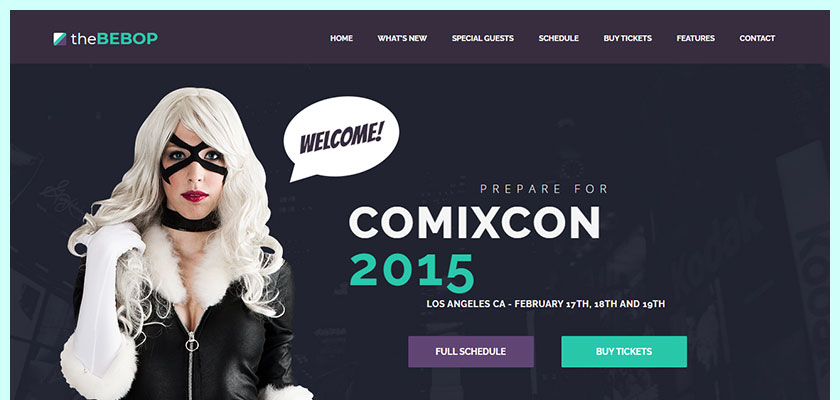 The Bebop Anime and Comic HTML Convention Template 14 HTML Files, 2 PHP Files Fully Responsive Design. It's Included Functional Timeline Plugin, Functional Contact Form, Countdown, Accordion and Tabs, Google Fonts Used, 8 Illustrator Flat Icons, 14 PSD Files and Help Documentation.
Eldon
Artist Portfolio Theme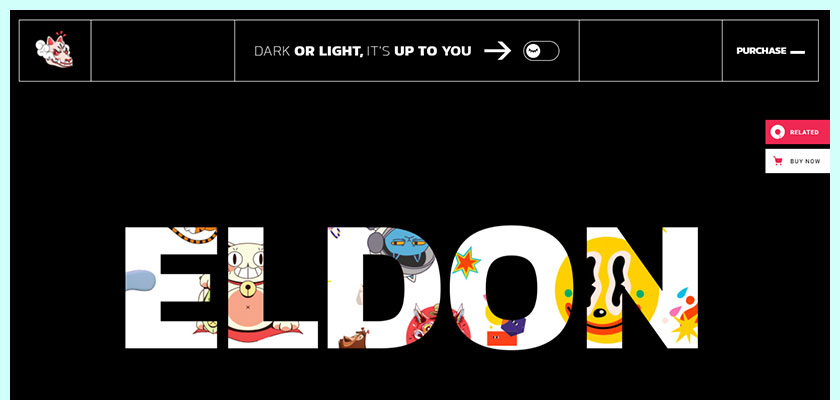 Breathe life into your artwork with Eldon, a theme designed for modern illustrators, character animation. It also features full Elementor support and can be used for both personal and company showcases alike. Theme Features included Easy-to-Use Powerful Admin Interface, One-click import of demo site, 10 predesigned homepages, Elementor Page Builder plugin compatible, Standard pagination any many much more.
The Bebop
Anime and Comic Convention PSD Template
The theme include 14 PSD Files – Bootstrap 1170 Grid, 8 Illustrator Flat Icons Included. 14 PSD files includes Home Animecon, Blog Animecon, Open Post Animecon, Special Guests Page Animecon, Timeline Schedule Page Animecon, Floorplan Animecon, Gallery Animecon, Blog Comixcon, Open Post Comixcon, Special Guests Page Comixcon, Timeline Schedule Page Comixcon, Gallery Comixcon.
Cinet
Movie Streaming HTML5 Website Template
The movie streaming HTML5 website template is a powerful and versatile solution for website development. It can serve as a means of promotion and advertising for your business. The Cinet movie streaming HTML5 website template provides a modern & impressive design. It can help you create any kind of website you need for your video streaming service.
Brave Theme
Multipurpose HTML Website Template
The Brave multipurpose HTML website template provides everything you need for building a website your business needs. With over 100 HTML pages and 12 niche layouts, there's a lot to choose from. Modern businesses heavily rely on their websites. A multipurpose HTML website template is a great solution that allows you to build an attractive site quickly and effectively.
The Conclusion
Creating a page from scratch is quite expensive, time-consuming, and difficult. Using these templates and themes, you can reach your business to millions of customers. These templates and theme-ready solutions give you endless customization options and high-quality design. These Best Anime and Manga Blogs Theme come with all the essential features you could need.
Also check our best collection for Best Astrology Website Templates and Themes.