If you are in the field of design then You must know which are the world's best design blogs that boost creativity. Being in the field of graphic design or creativity, you will know how to keep up with the latest trends in design that are currently trending. We currently live in a world where technology keeps on changing all the time and whatever changes happen about it, people get information through blogs. Today we will tell you about the graphic design blogs from where you will be able to easily gather the new trends going on in it and creative information for your project.
Most of us have seen a design made, but when you see over 150+ designs, you know that you are witness to something unique. It's amazing to be able to reflect on some of the great clients your artists have created for you and see that they are from different backgrounds and countries alike. When you start to get an idea of what you want to do, then you know to keep a clear eye out for better designs that are still ready to go. Art makes the world a better place. We are going to discuss this in detail below.
World's best design blogs list are here given below
There are thousands of blogs related to design on this globe. But which will boost your creativity, here we will tell you about those blogs which are most popular among designers.
Dribbble Blog
Dribbble Blog Is a very cool design blog for creativity boost up. Interviews, podcasts, inspiration, meetups, ideas, selected topics are published every day in this blog. Dribbble has a showcase of the world's best designs, along with its blog, all the essentials related to creative design.
Behance Blog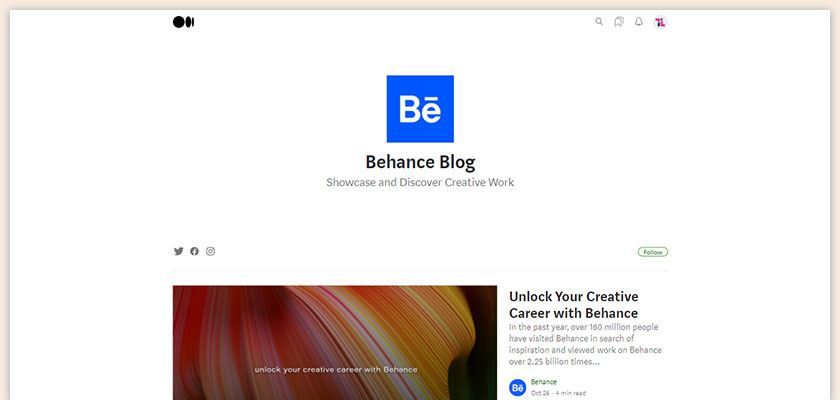 Behance Blog is a great option to increase your creative knowledge. You can showcase and discover creative work with Behance and Behance Blog. It is made on medium. Through this you will get a chance to enhance your creativity.
99designs Blog
99design Blog created by 99design platform to boost creativity and get information related to design. Through this blog, you get a lot of help in learning design, building your business, or growing an agency. By this, you can take inspiration and bring it to your design.
Inside Design
Inside Design is a blog for help and information for designers created by Invision wire framing tool. It also provides you with a variety of design resources, in which each thing is explained in detail and together you get it from many categories of topics.
Creativemarket Blog
The Creative Market blog is also a good useful resource for a creativity boost up. In the Creative Market blog, you will find resources related to many types of graphic design such as typography, font collection. In this, you will also get to see artworks made by the best designers in the world.
Creative Bloq
Creative Bloq is a very old blog with information about the latest design trends and technology. This blog is the best blog to give information about everything related to technology. You must bookmark this blog. It will keep you informed about the current trend in the design and technology-related market.
Canva Blog
With Canva Learning, you can gather information about the trends and technology related to creative graphic design. There is a lot you can learn from the Canva Design Blog. In this, you also get information about Social Media & Video learning tutorials and courses Canva's in-depth articles and resources.
Webdesignerdepot
Web Designer Depot is a blog full of designing articles which provides you the best deals and freebies too. Latest design trends are published weekly in this blog. You will also be able to get free software deals and some essentials related to your creative field from this blog.
Smashingmagazine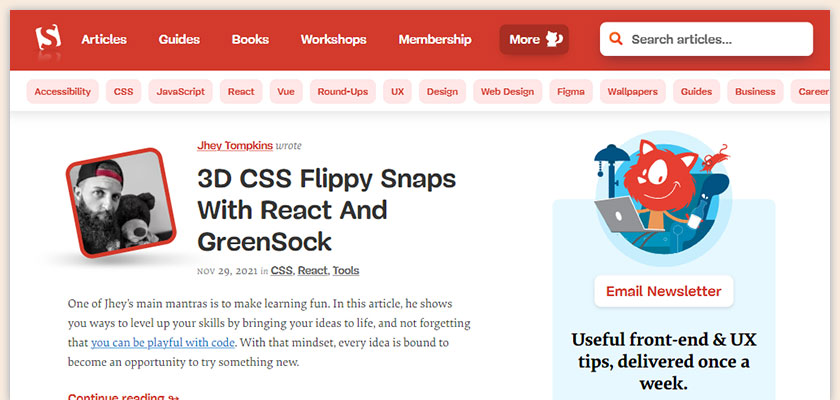 Smashing Magazine provides the best articles with tutorials related to latest graphic trends and technology. You can also read many books in this blog, you can participate in its workshop by joining membership. This blog provides a platform for you to do a creative job search and get a client's job posted.
Eyeondesign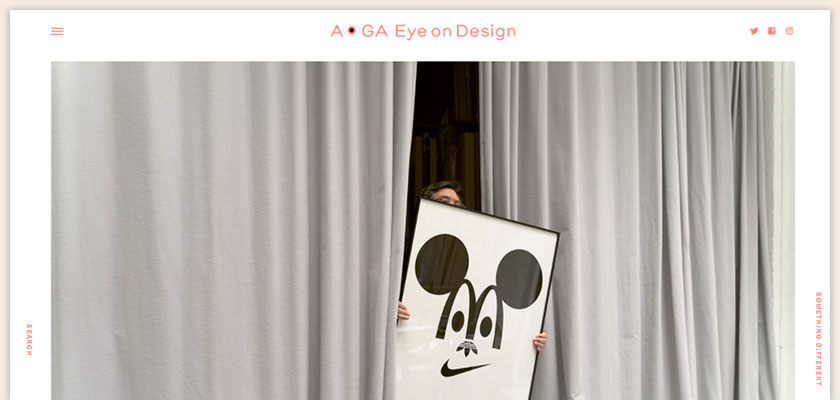 Eye On Design is a great blog covering every aspect of design. This blog covers all the fields like Graphic Design, Branding, Books, Magazine, Illustration, Digital, Typography, Newsletter and gives very good information about all these.
Abduzeedo
Abduzido is a blog of writers sharing articles about design, architecture, art, UX, and photography. This design blog is also the world's best design blogs that boost creativity. In which all the elements of design are given in detail about typography, user interaction, 3D, editorial design.
The Dsgn Blog
The design blog is a one-stop blog for all types of design related articles. In this you will get to read more than 40+ categories type fashion, font, furniture design, graphic design, identity, illustration, Industrial Design, Interior Design, Logo Design, Package Design, Poster Design, Print Design, Product Design, Photography, Stationery Design, Typography, UI / UX, Web Design articles will be available.
Design Milk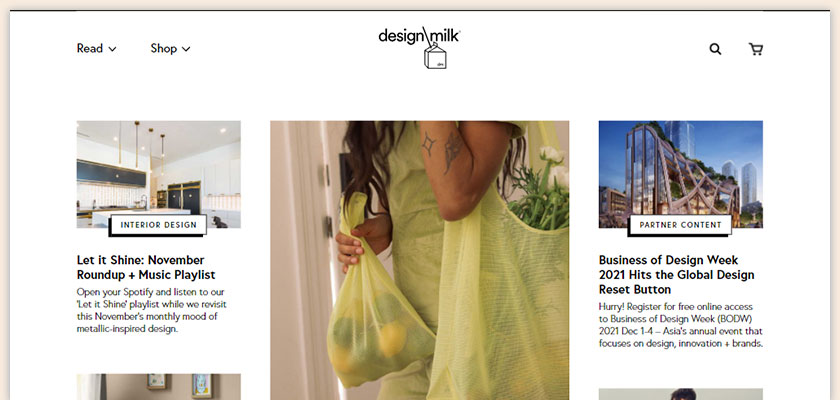 Design Milk is a great blog on Architecture, Home Furnishing, Interior Design, Art related Design. This blog brings you the best of design information in categories like Architecture, Home Furnishing, Interior Decoration, Domestic Animals, Tech, Art, Fashion, Travel related articles. Here are the Top Gift Pack Options for Holiday Shopping.
Muzli Magazine
Muzli Magazine is a part of an extension for Chrome browser designed by Invision. The most recent links about design and interactive from around the world are public in Muzli Magzime. On this too you will find very useful articles related to your design.
Design Week
The Design Week Blog is a blog of weekly news related to design and technology. This is a very beautiful and lovely blog articles Retail, Interiors, Interactive, Branding, Editorial, Education, Exhibition Design, Furniture, Legal, Packaging related to the full article and problem-solving case study.
UX Collective
UX Collective is the world's best design blogs based on Medium. It is a blog of all the articles related to designing published on Medium website with 427k followers. Speak to an audience of over 410,000 designers worldwide by publishing your story with the largest design publication on Medium.
Google Design
Google Design Blog is a product of Google, which gives detailed information about the user interaction used in Google. All the libraries used in Google's products, all the necessary information related to those resources, you can find only on Google's blog. So if you work as a User Experience Engineer then you must access this blog frequently. As you all know, Google is the best supporter of the future of design and technology.
Codrops
Codrops is a collection of all tutorials, playgrounds, articles and collections related to web design technology. It is a great platform to learn web design and graphic design. If you are looking for the world's best design blog so you are familiar with this blog and should be your first choice.
Webflow
Webflow provides design trends, design-related knowledge, and the latest articles. The name of the blog published by the webflow website builder software is webflow blog, in which you get to see design articles, e-books, reading lists, different types of topics, and feature posts.
Designtaxi
Design Taxi is a very old creative design blog with all kinds of artistic trends that will fall short in your creative field. In Design Taxi, you will find all types of articles related to design, the biggest feature of this blog is that you can provide your advertisements and your articles in many ways.
Creative Boom
Creative Boom is a blog providing detailed information on many design-related topics. The most creative in creativity out of all the above-mentioned blogs, the blog named Creative Boom covers topics like advertising, animation, architecture, arts and culture, crafts, digital, fashion, film, gaming, graphic design, illustration, photography, products is present to serve you his knowledge on design, publication.
Awwwards Blog
Awwwards Blog is the blog of the Awwwards Platform, given to the best sites in the field of web design. The Awards Blog has a wide range of articles related to inspirational talk, interviews, case studies, mobile experts, design. Awards are a collection of the best website experiences from around the world's best design blogs.
The Conclusion:
Life is one of the most important aspects of any creative professional's career! It is also very important how that career goes. For many years, I've become an experiential designer and have developed a wide range of work that will last forever. The most important reason to live happy is to find your artistic passion and create it in your heart, mind, and soul.The second most important thing is to appreciate what you have. A third reason to live happy is to create good jobs for other people. There is no shortage of passionless employees in the world. If I meet someone who I think can contribute to the greater good then I will always give them a job. I always think that I can do better by helping others!
When not working on my designs, I am constantly thinking about other artist's creations and what I can do to be better. Many of my designs take inspiration from photographers and artists who share their creations on Instagram! I have built an Insta account that gives an idea of what I see as inspiration from Instagram! If you are looking for new products that inspire you, keep an eye out! And if you want to join, please comment on the post here!