Popular marketplace where you buy & sell Website themes ? We always have a question regarding where we can find the best Website themes, templates and services. In short, we are always confused about popular marketplace where you buy & sell Website themes and templates. So many themes and templates are available in the market. But which theme will be better for our own website, for this we are telling you about some of the world's best marketplaces. From here you can start your journey.
Guy's, it becomes simpler to sell your themes and templates online. For that, you don't have to build your own site there are many online store where you can buy or sell. There are many Marketplace websites available that allow you to reach wider target audience to sell your designs or products. So, are you ready to sell your templates and themes on such marketplaces? I am providing you a List that contains top popular marketplaces to sell themes and templates.
Themeforest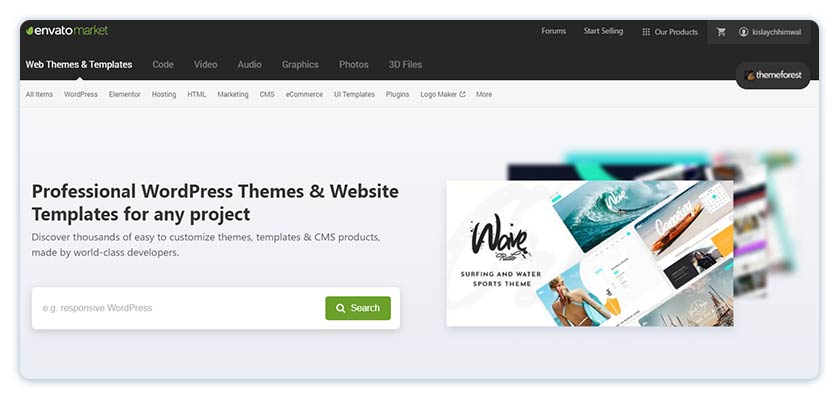 Address: https://themeforest.net
Description: ThemeForest is an Envato Market. Millions of people around the world visit Envato to buy and sell creative assets. With an industry-leading marketplace paired with an unlimited subscription service, Envato helps creatives like you get projects done faster.Whether it's graphic templates, website themes, photos, video or audio, there's every chance you'll spot something from Envato. Here you can find Best Themes for an E commerce Platform from Themeforest.
Template Monster
Address: https://www.templatemonster.com
Description: TemplateMonster is a digital marketplace of unique and creative products. TemplateMonster was established with a simple idea: all web PROs should get high-quality digital products with ease. Now you can build and customize a website or do anything else using only high-quality design essentials.
Creative Market
Address: https://creativemarket.com
Description: Creative Market empowers creators around the world to make their ideas a reality. Everything we do is to help them turn passion into opportunity. In this marketplace, an author can set their own price for their products.In order to start selling you should open a shop and set your own prices.
Graygrids
Address: https://graygrids.com
Description: GrayGrids is a Free and Premium Bootstrap Themes and HTML Website Templates. Free Website Templates & Bootstrap Themes for – Business, Landing Page, Admin Dashboards and Resume Portfolio Websites, 400+ Ready to Use Templates and Themes to Ease Your Web Development Process.
Mojo Marketplace
Address: https://www.mojomarketplace.com
Description: Mojo marketplace can be a marketplace for anyone to sell themes and templates. They majorly sell themes like WordPress plugins, premium WordPress themes, Tumblr themes, and Bootstrap. You can sell HTML templates, PSD, Joomla, WordPress themes, Magento or Open cart themes. Mojo is not the best marketplace for free themes.
Codester
Address: https://www.codester.com
Description: Cadastre is also a great marketplace where you buy premium PHP scripts, app templates, themes and plugins and create amazing websites & apps.Along with this, you can also sell themes related digital products on it.By creating an account, you get the facility to download many free files.

Bootstrapmade
Address: https://bootstrapmade.com
Description: BootstrapMade are creators of super awesome free Bootstrap themes and website templates.High quality free Bootstrap website templates. You can use our themes in your personal or commercial projects. Right now we have 81 free bootstrap themes and they were downloaded more than 3,876,272 times.
Bootstrap Themes
Address: https://themes.getbootstrap.com
Description: Whenever it comes to website themes, the first thing that comes to mind is that the website looks great on every device. Bootstrap made this task easy. Bootstrap is currently the most used responsive framework. Its themes are being used a lot. That's why you can buy and sell its themes from Bootstrap's official site. But for this you need to have proper knowledge of Bootstrap. You can earn from here also.
Make something that you would buy
Designing a website from scratch is a time-consuming task. Once you have finished designing a website, you can convert it into a theme. And then you can earn a decent income by selling your product in the popular marketplace where you buy & sell Website Themes. In this, you will work hard only once, but the more times your product is sold, the more you will earn.Try out what is trending in the market and create a theme like the one you are looking to buy.