Auction Website and Online Bidding is one of the fast-growing online businesses in today's time, to get ahead in this business you will need a professional website which we here try to fulfill your requirement through our themes. will do. We are telling you about Auction Website and online bidding Website Themes & Templates by selecting this website template, through which you can create a great website for your online bidding and auctions. Which will help you to create a great functional website in a very short time. Let's see which of these website templates we have brought for you.
iBid
Multi Vendor Auctions WooCommerce Theme
ibrid is a multi-vendor auction and commerce shop theme that has integrated plugins of the world's best marketplace, with the help of which you can create any website related to your auction like electronics collectible automobile option real estate website which has No coding skills will be required, it comes with new updates every day, in this, you also get the functionality of one click demo import, with its mega menu you can design adorable menus. Apart from this, many other features have been included in it like right-to-left language support, subscription, short code, social and popup login. This is the best Auctions theme we found that you can consider for yourself.
GRBid
Multi-Vendor Auctions Theme
This website theme is perfect for your Antique, Electronic, Systems, Vehicles, Watches, Equipment, and Auctions business-like. In which you will be able to sell your things through auctions. This theme supports the world's best plugins like Visual Composer and WooCommerce. In which you will be able to see the best experience of your website. Apart from this premium plugins like Token, and Slider Revolution has been used in it. Support in any language It has wonderful functionality. This theme has been designed keeping in mind search engine optimization.
Sbidu
Bid And HTML Template
This Bid and Options Template will give you an exquisitely designed HTML template by which you can develop your auction website on any platform. Sbidu is the HTML template of the auction website in which 21 pages are provided with search engine optimization techniques. Which are compatible with almost all browsers. This theme will bring you a very super clear and clean layout with responsive design in the form of a flexible layout system. In which full documentation is explained in a detailed technique.
Bidout
Multivendor Bid and Auctions HTML Template
It is multivendor bidding and auctions HTML template designed with 13 inner pages, and 30 section widgets presented with three homepage design options. There is also a React version available as well. It is a beautifully designed theme that comes with retina-ready, clean, and organized code. Some of the features of this theme are Search Engine Friendly, Fast Loading Speed, Modern Design, Life Time Free Updates, Fully Responsive, 24/7 Fast & Family Support. You can make your beautiful auction website by purchasing this theme.
iBid
Single & Multi Vendor Auctions Shopify Theme
iBid is Shopify's theme for single and multi-vendor auctions & online bidding. In which you will be able to list your products. It has a separate page for electronic auctions and a separate marketplace for automotive auctions. The features of this theme include Product Filter, Wish List, Shop Grid List Off, Custom Products, Real-Time Search Form, Contact Form, Cart, Check Out, login, Register Page, and many more functionalities have been used. Which is a very good symbol to see. Detailed documentation is presented here which will be very helpful for every single customer.
Besa
Elementor Marketplace WooCommerce Theme
Now we will tell you about a theme integrated with WordPress and WooCommerce that can complete your search for a website related to your auction business. Besa is an Elementor Marketplace and WooCommerce theme in which you can combine multi-vendor and e-commerce marketplaces. It is Dokan Vendor, WCFM Marketplace, and WCMP Vendor Plugin Compatible which are the most widely used plugins in the world. In this theme, you will get many different types of header and footer options. In which Ajax Live Search has been used, Ajax mini-cart has also been given in it, which is very popular these days.
Bidgen
Multivendor Bidding HTML Template
Bidgen is an HTML template designed for different types of bidding and auctions. There are five different types of unique home pages designed in this template. Which is available with all the necessary pages inside. This is a Modal and clean design with Bootstrap 5 Framework and a design with SCSS. It comes with a W3c valid professional code which is search engine friendly. The page speed of this template is also optimized and also it opens and runs well on all browsers.
Bidout
Multivendor Bid and Auction React Js Template
Bidout is a React JS template of Multivendor Bids and auctions which is considered to be the most popular framework or library in front-end design. It has three best home page designs as well as 15 inner pages designed which will help you very well for your auction business. All these pages are completely mobile responsive. In which clean code has been written in a well-commented and organized manner. In this theme, you will get its live time update.
iBid
VueJS eCommerce & Auctions Template
Now the design template we are going to tell you is VueJS E-commerce and Actions template. Which provides you with a very professional-looking design like an e-commerce marketplace. There are more than 10 pages in this template as well as more than 20 elements used. It is a fast template in light and speed. In this, all the functionality runs without the help of Jquery which is the best feature of VueJS Framework. This template will be available to you along with detailed online documentation.
Saldom
Domain Sale And Auction HTML Templates
Domain selling is one of the most popular businesses nowadays. If you want to do domain sales and auctions, then we have also brought you the template in which you will get all these functionalities. Saldom HTML Template comes with two unique home pages with functionalities like Domain Parking, Domain Sale, Auctions Domain, Transfer Domain, and Trading. It is fully customizable, free Google phone has been used in it. Which presents a super cool and clean layout to use.
Auctioneer
Auction HTML5 Website template
Auctioneer is a brand new theme. This will facilitate you to build your auction business website in very less time. In this theme, you will get to see the About us page, Blog, Blog detail, Contacts, Portfolio, Portfolio details, Service, Service detail, and Team pages. It is a fully mobile responsive and retina-ready theme. Which can handle your online bidding business well.
Online Auction
Auction Responsive Clean HTML Website Template
Online Auction is Auction's responsive clean HTML website theme that uses costly user interactions in a systematic manner. This theme has well-recognized, well-commented search engine-friendly coding. Comes with detailed documentation as well as 24/7 support will be available to you. Its features include Google Maps Functionality, Working Newsletter Subscription Form, Working Contact Form, and Smooth Animation Series Available.
Online Auction
Multipage Website Template
This is an additional auction multi-page website template containing more than 40 ready made HTML pages. Its features include included W3C valid coding and well-commented code. Plus it features cool animations of CSS that are well visible on every device. If you are looking to start an auction business then this HTML theme will provide a great experience for bidding and selling your products.
Antiquer
Shop Yard Sale HTML5 Website Template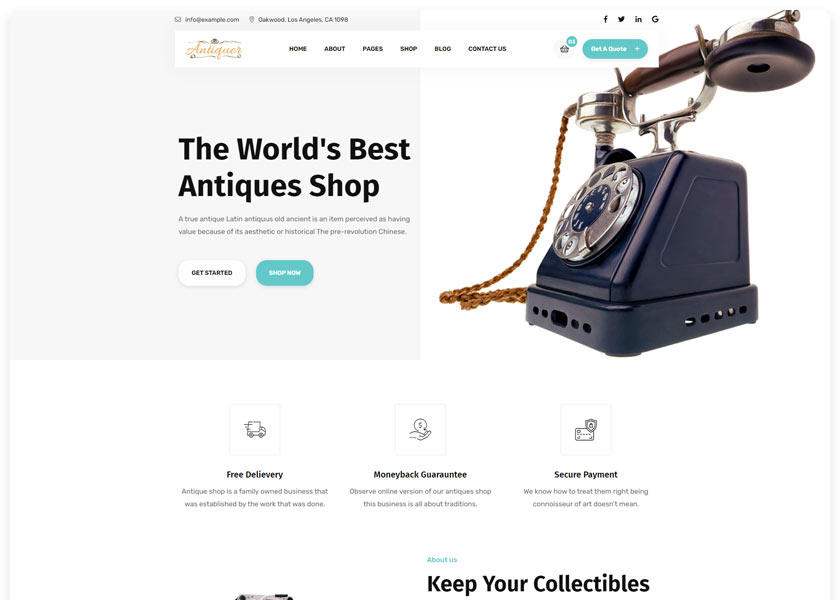 With these template themes, you can help individuals move their yard sales online. Antiquark Shop Yard Sale is an HTML website template developed with the shop business in mind. Through which the platform of the shop is easy to use. Using this, you will be able to do tasks like Antique, Antique Collection, Antique solutions, Antique Theme, Classic Furniture, Yard Sale, Backyard Sale, etc. very easily.
The Conclusion
This Auction Website and Online Bidding Website Themes & Templates are the best and best-in-class website templates. We have handpicked that are designed to make your website development process simpler and better. You can develop your online auction business fast with these templates without any technical knowledge.
You can also check our Casino Website Templates and themes free download